 
THUNDER75.4 400W RMS 4-CHANNEL CLASS A/B AMPLIFIER
Designed for Kickin' Four Channel Sound
The THUNDER 75.4 car amplifier features a class A/B design to provide the highest sound quality to any style full range speaker. Class A/B topology is designed to reproduce all notes and frequencies your full range speakers can play, ensuring you hear all of your music as your favorite artist intended.
This amplifier rocks all four speakers with room to spare, without added distortion or over-heating during long hours of loud play.


Technologically Sound
The THUNDER 75.4 amp includes an extensive feature set including gain control and frequency adjustments as well as RCA inputs for signal. The surface mount circuit board design attaches critical parts more securely creates increased resistance to vibration.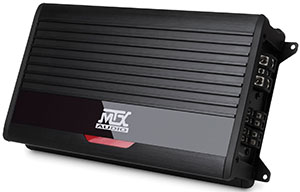 Mountable Anywhere
The unit's small chassis features an extruded aluminum heat sink that effectively dissipates heat ensuring long play times.